12.01.05
In a recent post I argued that we should take another look at nuclear energy, at the very least in the mid-term until alternative energy sources become more reasonable economic alternatives. I was not surprised that comments on that post reacted so strongly to the bad, bad word: nuclear (or should I say newcular) One solution suggested (if half-heartedly) was conservation.
I am a big fan of conserving as anyone who has visited my home in the winter without a sweater will certainly attest. I feel that conservation, especially conservation that doesn't impede our economy is the only wise choice. Still, I began to doubt that conservation is an effective solution to our energy problems.
According to EarthTrends energy consumption, per capita in North America is nearly flat from 1999 to 2001 at 7,539.0 kilograms of oil equivalent (kgoe) per person per year in 1999, 8,090.5 in 2000 and 7,928.5 in 2001. (That's all the data their free database let me collect though. Earth Trends is part of the World Resources Institute, an environmental think tank.
National Atlas.gov had data for this graph from 1960 to 2001 which agrees well with the WRI. Again, consumption is trending down right now and hasn't been increasing as much as you'd imagine from all those huge cars on the streets.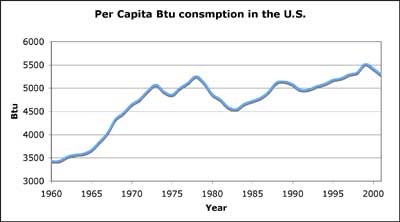 How is this possible? One thing's for sure. What's not happening is people turning off their Christmas lights or wearing sweaters in their homes, let alone driving around in little Geo Metros. Instead, all those big companies that people love to hate have been driven to produce more efficient cars and lights and electronics because, fortunately, there's a market for it. Conservation is definitely a good thing, it's even driving part of our economy. That's good news. A modern mid-size SUV, for example, gets about the same gas mileage as my '81 Honda Civic used to and I am fairly certain it has lower emissions of SO2 and NOx as well. I am typing this on a laptop that uses about as much energy as an incandescent bulb and the light in this room is a compact fluorescent that uses about a fifth of the energy of the incandescent bulb it replaces. LCDs use energy than CRTs and my refrigerator and clothes washer all use less than their counterparts of 20 years ago.
Lucky for us we have all those companies, because I don't think it's realistic for us to actually turn off those lights and put on sweaters. And as long as that's not the case, it's probably equally unrealistic for us to claim that conservation is more than just part of the solution to global warming and pollution put out by all those fossil power plants. I wish it weren't so, but it doesn't look like conservation alone will remove that bad "newcular" word from our list of solutions any time soon.