02.11.06
It's your first time in a so-called third world country. Guide book in hand you've made it from the plane through the mobs of people to the bus that takes you to the center of town. It doesn't matter where you've traveled to for this trip, I'll bet the bus is full of people. Travelers with backpacks and locals with farm animals jostle for space in the aisles. If you haven't travelled much you're carrying a big pack and maybe a smaller one in front of you because you wanted to be prepared for everything. The only thing you weren't prepared for was how to manage your huge pack on cramped busses. If the bus isn't packed to well beyond capacity, it's because you've arrived so late at night that you're lucky to have found cheap transport at all.
No matter what time you arrive, when the bus finally disgorges the farm animals, locals and bewildered travelers, you get to face touts for the first time. Suddenly dozens or even hundreds of young men are barking at you: Taxi? Hotel sir? Tuc Tuc madam? Change money? You need hotel, sir? I bring you best hotel. My brother's hotel, very good madam. There's no denying it can be frightening. From all sides people are literally yelling at you. You push your nose into your guide book to find the hotel you've dutifully highlighted as being the cheapest, clean hotel, with the best English speaking hosts. One of the touts catches your glance as you look up again and you have no choice but to talk to someone.
"I want to go to the 'Happy Traveler' hotel" you say. Suddenly there is a huge frown on his face. "Oh, so sorry, sir. They are closed now. I know a better hotel. Not far. Clean!" 'Oh come on' you think, this is this year's guidebook. You ask another tout and get the same response. You're getting nervous now. You're sure that's the hotel you want but you've got that heavy back pack and there's no way you're going to be able to carry it in this heat all the way to the hotel.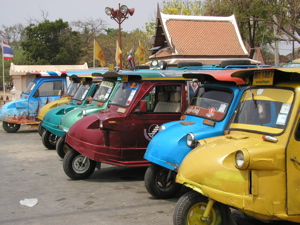 Sweat is running down your chest and you've got no choice to trust one of the drivers.
So you pick the one you think won't actually drive you to the middle of the forest, strip you naked and leave you there. You try telling him other hotels in your guidebook but somehow, miraculously, they're all closed. Not to worry, his uncle's hotel is much better. Like it or not, that's where you're going! Unfortunately, you don't know how far it is, so you can't even negotiate a good price for the taxi ride. This isn't Europe, so there's no meter in the cab, and well, at least it's got air conditioning which the tuc tucs don't have and they don't look very safe anyway–maybe if you didn't have that big pack!
And then the good news finally breaks. You arrive at his uncle's hotel safe and sound and, to be honest, it's just great. It's clean and not too expensive and the host understands everything you say. You get an actual key to the room and the fan on the ceiling actually seems to work, although it's wobbly and squeaks rhythmically as it turns. You've paid the driver who doesn't seem to go away and, well, everything is just fine. When you emerge from your room, unburdened finally from your load, your smiling driver is still there and now he's offering to take you to wonderful sights that brought you to this part of the world in the first place. If you end up taking him up on it, you'll find him to be a pretty good guide and, while pricier than getting there by yourself, not that bad a deal if you're on a tight schedule.
And that's the lesson. Relax! Almost everywhere I've travelled it's nearly the same story. It takes a herculean effort to avoid the touts, when in fact the easiest way to avoid them is simply to capitulate. As soon as you do, your new guide will defend you from all the others. If you don't like the hotel he brings you to, just ask him to bring you to another. In most cases you won't have to pay any more for the privilege either. He's probably got "uncles" all over town at all price and luxury points.
Why begrudge these would-be travel agents? It's this fear and confusion that will ruin your trip if you let it. Trying to beat the rip-tide of touts and connections is a sure way to drown in this new culture. It's quite possible that you'll drive by the hotel you wanted the next day and see that it wasn't closed after all. Go check it out. Fifty-fifty chance it won't be as good as the one you stayed in anyway because it's over-run now that it's in the guide books! This free-wheeling capitalism is the truest American export. Just like our version, it's not without it's pitfalls and it's sometimes even dangerous, but keep your wits about you and most of the time, things are just great. So relax and enjoy your trip, for this is the better way to spread freedom and democracy around the world than at the barrel of a gun and we all might learn to get along better in the process.