11.12.09
Late 2009 might not be the very best time to visit Shanghai. "Better City, Better Life" the banners proclaim as Shanghai prepares for the World Expo in 2010, but today, that means that there's construction nearly everywhere, including the world famous riverfront embankment, "the Bund". I hear it's quite a sight. Too bad my view of it was never unobstructed by construction.
The first day in China was spent exploring what was still visible of the Bund and its charming 19th century European architecture, and contrasting them with the Jetson's wonderland of ultra-modern skyscrapers in Pudong across the river. After fighting the crowds of (Chinese) tourists walking along Shanghai's main shopping street, Nanjing Road I made my way to the old city and Yuyuan gardens. It's not a long walk, but unfortunately, the otherwise convenient subway doesn't take you there.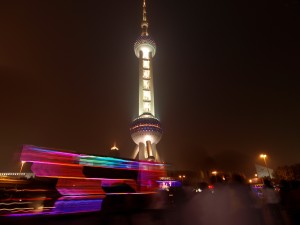 I did take that subway quite a few times while in Shanghai. It's a pretty efficient affair with automats for buying tickets that include English translations and fairly clear signage throughout. It's noticeably more expensive than the Beijing subway and, owing perhaps to Shanghai's spread-out geography, not quite as convenient. Another, less subtle, difference was apparent when trying to board or exit a train.
On the platform, lined up where the doors of the trains stop, are arrows. Pairs angled from the sides point off the platform and funnel passengers to where the doors will eventually open. Centered between these, are arrows directing exiting passengers out of the train and smoothly on to the platform.
Though, that's not how it actually works. Instead, waiting passengers crowd around the arrows and all of them press simultaneously against the opening doors of the newly arrived train. Before the doors are completely opened, exiting passengers start pushing through the mob desperately swimming upstream and out of the train.
The arrows are there, and the Chinese are not stupid people. They understand what they mean. Young people seem slightly more willing to abide by the system that quite obviously improves the experience for everyone involved. Older Chinese, meanwhile, may find decades of pushing a hard habit to break and unfortunately, it only takes one bad apple to spoil the behavior of a whole batch of well meaning commuters. If he starts pushing, then if she doesn't, she might not be able to get on or off the train.
So I find myself jumping into the fray with abandon, pushing through the onslaught to get on the train, just like everyone else. During one trip, my camera cover and lens cap were stripped off the camera and shuffled underneath the train by the press of the millipede crowd. I am glad the camera was around my neck.
Shanghai is not a new city. The architecture along the Bund hints at a past of opium trade and European settlement. The still older buildings of Yuyuan represent centuries of history. Pudong, the area just east of downtown Huangpu, and the subway that whisks citizens around the cityare new. Pudong was only rice paddies in 1993 when the Chinese government established a new economic zone and built the famous Oriental Pearl Tower. The metro is now China's largest and fastest growing and was started only in 1995.
In Beijing and Hong Kong, the metros are just as full, but everyone seems to have noticed the arrows and figured out the simple task of how to board a subway train. Things are changing incredibly fast in China. Perhaps youth and inexperience might then explain why the Shanghainese haven't yet realized that a pinch of politeness would actually speed things up. Instead everyone's out for himself and the whole group is slowed down for it. It's still new, they'll probably get there. At least I hope so; I don't want to lose anything else just boarding the metro.
150 RMB: Hotel deposit. Many hotels, especially mid-priced and higher, expect you to pay up front an take a deposit ahead of time. They don't seem to be particularly organized on how they handle that deposit, but I've never failed to get my money back. Don't lose your receipt!
1.50 RMB: Bottled water.
32.50 RMB: Lunch of tempura and udon soup.at Waya Udon, a Japanese/Shanghai fusion cuisine–hey, Shanghai has lots of choices!
40 RMB: Entrance to the Yuyuan gardens. Entrances would prove to be quite expensive. This was actually a cheap one.
60 RMB: Tea at the famous Huxinting teahouse in Yuyuan. It's touristy and absurdly expensive, but come quail eggs and sweets were included!
83 RMB: Beer at Shanghai Bund brewery, Shanghai's only microbrew. Not bad, authentic tasting German style beers. Bought a glass too.
14 RMB: Dinner of northern style dumplings. Most Chinese food in the United States is stir-fried, where as in China, steamed, boiled and grilled are at least as common.
2 RMB: More bottled water.