01.29.10
It's pretty likely that you've come to Guilin and Yangshuo because you're a tourist. It's one of those places that silly people who don't like "tourism" avoid. But since you've come all this way, you might as well go all out and check out a performance of Impression of Sanjie Liu. Instead of a stage, this huge performance is played in open air, on the water of the Li river, with the natural islands and erosion carved karst cliffs in the background.
I could tell you all about the Zhang Yimou's efforts to create this amazing performance, but you can read about that all over the web. You may recognize Zhang Yimou from the Beijing Olympics opening and closing ceremonies. He tried out his ideas of thousands of performers adorned with lights performing in sequence from this play, which he continues to work on and change, so that on your second and third trip to China, you can check it out again and see how it's changed.
Instead of rehashing the amazing performance, though, I'd like to tell you what you're likely to face as a tourist on your way there.
When you buy tickets, most tourist agencies in Guilin or Yangshuo are going to describe three zones for you. The "A", "B", and "C", zones represent the 'blankets and newspaper seats in the front:' "A", the comfortable seats further back and higher up with a broad view of the whole show: "B", and the luxurious seats in the "C" with lounges and roofs in case of rain. What you are not told, at least if you don't speak Mandarin, is that each of these sections is divided further. You aren't shown pictures of the seats or given a clear idea where they are, so you're going to guess. I guessed "B".
Since you've likely bought your tickets at a tourist agency, you'll also be offered a 20 RMB ride to the show, only about a mile from town. Of course you could walk there, although walking back might be a bit scary on the poorly lit streets with all the traffic leaving at the same time. It's only a mile, so clearly 20 RMB is a ripoff, but the problem you face is that you don't likely know where, exactly to walk. Is it worth your time to do reconnaissance before the show and figure this out? I knew I was paying too much, but I decided to spend my time elsewhere and cough up the cash.
You gather early and drive to a few hotels to collect a few more tourists and then, following another panda flag "Go Pandas!" you're lead to theater gates. It's crowded. This place must be huge. There are thousands of people here. In attempt not to lose anyone, the guide makes line up in neat straight lines like we're in grade school. It's hard to be embarrassed; all the locals are being forced to do the same. Giggling like the school children we look like, we're counted multiple times and then the guide barks some orders at the polite Laotians at the head of our line because they look like the speak Chinese. They don't and have no idea what we're supposed to do next, but we are eventually allowed inside.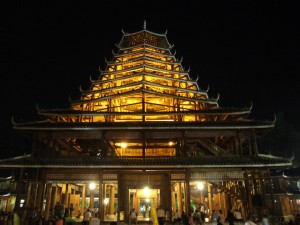 Inside is another waiting area. Here an attractively lit giant pagoda styled gazebo has an array of numbered and lettered exits which a Chinese speaker would, no doubt, understand how to associate with the ticket he is holding. Occasionally groups start pushing in one direction or another, and together, our little group of Pandas (our guide is now outside; we're on our own) tries to figure out which exit is ours and when we should push through it.
As it turns out, it doesn't matter much. The crowds movement swells and becomes unmistakeable. We are funneled through one of the exits and head on a pleasant walk past a few souvenir stands and onto the natural amphitheater. When we are almost there, ushers finally look at our tickets and we discover that we've been heading nearly the right way all along.
"A" seats are just fine. They're not newspaper on the ground; but rather reasonable, if not terribly comfortable looking, plastic chairs. Being 'too' close is hardly a huge tragedy either. You might miss a few things, but honestly, I thought it would be nice to be closer many times. I broke out my telephoto lens to get a closer view of the cute little farmer girls and the fisherman's costumes. One complaint I heard from some fellow tourists when we regrouped was that the Chinese can be a pretty noisy lot. Fellow westerners noticed that locals weren't terribly interesed in the details of the play and were busy eating the food they brought with them while arguing about who should have the cashew chicken. Very distracting.
"C" seats seem pretty silly. Apparently neither tourists nor locals were convinced to buy any on the night I saw the play. They were nearly completely empty. You'll feel very special a few feet behind the "B" seats, and servers will bring you drinks, but you won't have any better view and you'll need an even longer telephoto to appreciate the costumes.
"B" seats seemed just right in terms of decorum of others in attendance and the distance from the performance. A couple of groups of tourists, including some Pandas, were ushered to our "B"-Deluxe classy whicker like plastic chairs and a free bottle of cold water. Our nearly empty section was a head above the rows in front of us and had a commanding view of the performance, if a bit far from the action. However, just in front of us, in only slightly less attractive plastic chairs, was the "B"-Standard section, a bit more than half of our price with no serious disadvantage and, indeed, the front of this section would be perfect.
I have no idea how you get a seat in this section. It was never offered to me, but perhaps just knowing about it might help you. All the local Chinese were sitting there and nearly every seat in that section was full. It's the best option.
Information about the show explains that cameras are not allowed, and neither are bags or much of anything, but none of these rules is enforced, and I didn't even realize the camera wasn't allowed until reading about it later. The better seats come with a free bottle of water, and you can buy a poncho if it rains lightly (which it often does.) Come thinking it will be cheesy, that way, even though technically it is cheesy, you'll be even more amazed at how much you'll love it.
After the show we follow the happy, wide eyed, crowds passed the lake, along the river, the pagoda/gazebo and finally out the gates where our guide should be waiting for us. She's not, so we're off to find the 20 RMB shuttle we've paid for instead of just hiring a golf cart shuttle. You'll want to stick with your little group of Pandas here, because together, you'll probably be able to piece together the lefts and rights it took to get from the van to the entrance. Eventually. If you make it in a reasonable time, you'll still be able to have a drink in downtown Yangshuo.