11.01.10
The next morning, after all the Lijiang tea shops, we rented bicycles again to check out the surrounding sites. Lijiang is in Yunnan province, neighboring  Tibet, the landscape is rippled and ridged as the mountains of the Tibetan plateau are beginning here. With that in mind, we rented mountain bikes instead of the trusty single speed 'lady bikes' from Yangshuo and Guilin. Bad idea. Renting bikes is cheap in China, but the bikes have had rough lives, and definitely won't be comfortable. This will be the last time we rent bikes in China, because we'll need the rest of the trip to recover.
Our map has a few different landmarks and roads in it, but my strategy is basically 'head north.' There are dozens of attractive villages and sites within biking distance from Lijiang and even more sites if you've got the time to travel further afield. On this day, our final destination is the Yufeng monastery. Along the way we'll get lost at Longquan villiage, buy more souvenirs on a street corner and learn personal hygiene from a Qing dynasty temple. Not bad for a bike ride.
We got a fairly early start and fueled up for the journey on some a Tibetan yak cheese omelet with sugar. Delicious at 20 RMB. The bikes were a mere RMB, and the guy renting them even gave us a blurry, photocopied map to get us going. That's how we got lost in Longquan. The charming village would be an excellent alternative to Lijiang. It's much smaller, and admittedly less picturesque, but only just. The same beautiful village architecture, charming little bridges and al fresco eating along a cool little stream used by at least one of the restaurants to cool beer to the perfect cellar temperature. All this, and far, far fewer people! But without all the people comes fewer conveniences. We've stopped in Longquan because we need to withdraw some money, but finding a bank isn't so easy. Locals keep pointing in conflicting directions to a money machine hiding somewhere in the area. We discover it's inside the grocery store on the main square.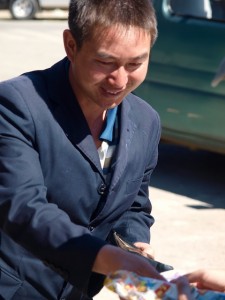 Back on the bikes, we continue north and pass through another, less touristy town of Baisha. We almost make it through without stopping, but at the intersection leaving the town, a smiling gentleman in a suit beckons us to his large souvenir stand. He looks lonely and there really are a lot of interesting looking things there—maybe I'll be able to negotiate a better price here? After completing our deal for a fake bone carving, he's smiling too much for me to think we got such a great deal.
Next stop is the Qing dynasty Wenchang palace. The palace hall contains the "Baisha Frescos" painted from 1385 to 1743 and they're quite impressive, but pictures aren't allowed and even after reading the detailed signs describing all you can see there I don't think I understood much.
Meanwhile, the palace hall has several stunning buildings and is a quiet place to stroll. It's 30 RMB to get into the temple and another 25 for the fresco scenic area (basically, you pay just to go through the town.) You can't really miss this though because, in addition to the frescos, where else are you going to see statues of monks demonstrating healthy living, including flossing their teeth?
A few kilometers more, a bit over 13 so far, and we're approaching the Yufeng Monastery. Unfortunately, we can already see it, and between us are several switchbacks up a steep road. We're on mountain bikes here, so this should be no problem, but between the pain in our asses from the terrible seats and the only barely functioning gear system, we're considering dumping the bikes and just walking it. Except the bike renters warned us they'd be stolen.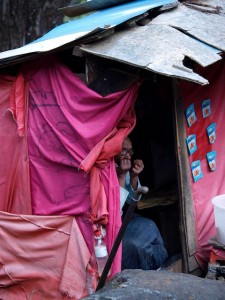 The temple is a lamasery of the Scarlet Sect of Lijiang. It was built in 1756 and sits at the base of the Jade Dragon Snow mountain that dominates the scenery and post cards of Lijiang. While exploring the lamasery we encountered shy monks, an incredibly aggressive, charging and attacking rooster, a harmonica playing caretaker/monk and a 500 year old camellia tree. The tree is actually the chief reason to visit the temple, although we could barely make that out from the signs around it. A Chinese tourist enthusiastically explained that a single monk tends to the camellia tree which blooms for more than three months, resulting in some ten thousand flowers blooms in 20 batches. If you can get there while the tree is blooming you might see two different flower types, evidence that originally it was two trees planted together that have since entwined to one larger tree one. Even in late fall, without any blossoms, the carefully pruned, centuries old tree, is impressive.
It was getting late by the time we'd seen everything and souvenir sellers outside had mostly cleaned up their stalls. One of them remembered that I had dared to glance a set of giant prayer beads on my way in, and offered them to me again. I didn't need them, nor particularly wish to carry them. Her initial price had been above 300 RMB for them, but she was down to 100 now. "Twenty," I said, figuring that would end the discussion. Instead she insisted they were worth more and that wasn't fair. She must eat, she announced. "But I don't really want them," I objected as I we were unlocking the bikes. "Fine! Twenty." Damn, now I had to take them–they barely fit in the backpack, but 20 RMB is embarrassingly cheap. I should always haggle like that.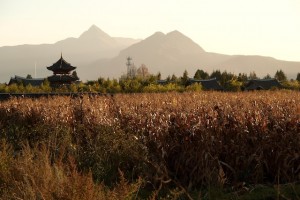 On the ride back to town we passed by farmers taking in their animals and watched the sun light up corn fields. Somehow we avoided getting hit by cars as we re-entered the Lijiang and returned the bikes after 27.3 km. We still had enough time for dinner and to arrange a trip to Tiger Leaping Gorge. So long as there wouldn't be much sitting on a bike seat, we'd be fine.