01.10.11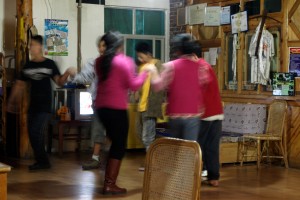 Any time you travel far enough from your own home base, even a nature hike can turn into a cultural experience. The day before our hike lead us passed amazing views of the Tiger Leaping Gorge and the towering mountains and tiny flowers surrounding it. But the hike also brought us closer to the historical lodges of the tea trade, the hemp growing farmers and the impacts of the tungsten mine above us. That evening, in the small hotel, we had dinner, but we were also invited to join in a impromptu folk dance by the maids and cooks of the hotel entertaining themselves in a place without much of the attractions of a city.
The next morning we hiked down to the gorge below. There is an entry fee for the hike to defray the costs of building and maintaining the crumbling wooden walkways, low fraying rope guard rails, and dangerous, 50 feet long rebar ladders that enable a safe a sane journey to the gorge and back. Our tour included the fee but we donated a few more yuan just to be sure, since the infrastructure is built by local villagers and not by the Chinese government. They also maintain a few fruit stands and toilet with quite a view near the gorge.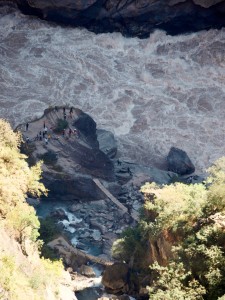 The dangers of walking across aging wooden planks and washed out trails is drowned with ever greater intensity as you approach the river itself. Here at middle Tiger Leaping Gorge, the river is at its narrowest and all that water churning and squeezing through a bit over a dozen meters thunders so loudly that our trusty guide has to yell at us to be sure we go the right way. The hike is steep down and even steeper if you choose the optional ladders route back up. The ladders are, well, just ladders, but the last one is long, slightly loose, and very exposed. Of course you can climb a ladder, but slip on this one and you'll bounce down the canyon like a rag doll. Hey, you get what you pay for!
After taking in views of the gorge, from up close and personal, to grand vistas at the top, we return to our hotel for lunch and to await our scheduled bus back to town. Here we meet a very proud Chinese family who, in spite of our guide Daniel insisting the Chinese don't hike, have just hiked to the gorge and back with their 72 year old father. Dad is justifiably all smiles for his accomplishment and, even without a word of English, he wants us to know. Having just finished the hike ourselves, ladders and all, we're every bit as impressed as he wishes us to be. We also meet fellow western travelers including an executive from a British company who helps me with a few Chinese phrases (the trip's almost over, but maybe now I'll finally be able to ask for a vegetarian meal! yo mei yo, mei yo rodeh tsai). We meet French travelers Alexis and Gautier and chat with them during lunch and then on the bus back to Lijiang. The two are a trove of knowledge with insight about travel, politics, and religion and so pleasant to chat with that we later join them for dinner.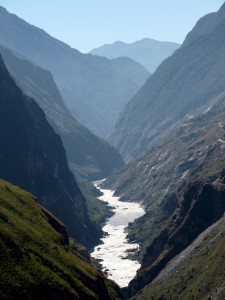 So, did we hike into a gorge, or see a folk dance performance, learn about local economics, discover that the Chinese are more varied than our guide lead us to believe, gain insight into living and working as an expat in China, or stumble on travel tips to Turkey, Iran, and beyond? Often, the pleasant surprise of travel is getting so much more than what you planned.
50 RMB – Tip for Daniel
15 RMB – Breakfast
2 RMB – potato snack
15 RMB – beers
65 RMB – dinner
3 RMB – sweets
2 RMB – rice balls
63 RMB – dinner the night before