12.23.11
The Subte (Buenos Aires subway) runs only till about 11 at night. Unexpected in a city where people only start going out to dinner at 9:30 and places aren't full until 11 when people are still rolling in while tourists like me are finishing dessert (or more likely, long back at the hostel, getting to sleep.
That meant it was going to be a challenge to get to La Catedral and back, especially since most every local has discouraged us from taking taxis; suggesting instead, a remis, or private hired car. When we arrived at the Buenos Aires international airport, Ezeiza, a perfect stranger agreed we really shouldn't take a taxi. He wasn't taking one either and while, perhaps most taxi drivers are good, honest folk, it only takes one bad apple. He pointed at our cameras.
Of course, our clever is solution is to take the public bus instead.
---
La Catedral isn't a church. It's a milonga, a dance hall for tango, inside a non-descript converted warehouse. Totally bohemian, the hall is dimly lit with hanging colored lights and the walls are decorated with a hodge podge of junk scavenged from countless antique shops all over the city. Tango classes start at 8:00 but they're only in Spanish, so we didn't rush. We arrived a bit after 11 and classes were still going on. Dancers were twirling and gliding around the dance floor to lovely old tango music, stopped every now and again by a couple of teachers offering guidance or showing a few new steps.
The classes are free and obviously fun. I gleaned quite a few tidbits about what it actually is to tango just by watching the lessons and comparing the new folks with the more competent appearing ones.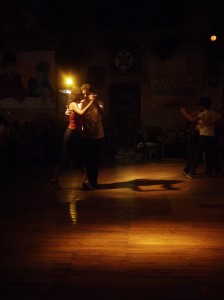 The dance floor is large and surrounded by tables and chairs (of varying comfort: some with broken backs, some with seats sat through) where dancers and spectators enjoy meeting friends, a few drinks, or a bite of pizza. Other rooms off of the main hall have couches (in about as dismal state of repair as the chairs) and quieter areas to strategize who will be the next dance partner. One whole end of the hall is a bar with a giant red heart hanging above it and the other has a cluttered, elevated stage for performances.
We heard, and even asked at the door to confirm, that there might be a show tonight as well. The clock kept turning though, and by 1:00 some fellow tourists told us on their way out that they'd asked and there wouldn't actually be a show.
But, even without dancing a step (would that I knew how) La Catedral and the dancing is so charming that we just stat there and marveled. In between songs, person placed two chairs in front of the stage and left. A little while later a couple of microphone stands came out. Something must be going down, we smiled at each other…but when?
The dancers continued, taking breaks to wipe off sweat and catch a breath only when the dj would throw on a classic rock song, or a seventies disco hit. If it ain't tango, they weren't having any of it.
Finally, a little after 2 am, two large thin platform planks, maybe just compressed paper or fiber board, nothing special, were pushed together in the middle of the dance hall and some musicians came to sit in the chairs. A guitarist and harmonica player played live tango; the guitarist's fingers shredding the fretboard and the harmonica player astonishing everyone that he wasn't actually playing the more traditional accordion.
They were joined by two drummers dressed a bit like Argentine gauchos and banging on every part of their drums from skins to sides, from ropes to rims. After a number or two, the drummers made their way to the makeshift platforms to dance: not tango, but a gymnastic tapping and pounding of their boots replacing their drums with rapidly moving feet. They stomped with heels, tapped with toes and jumped on the edges of the boots. In another number, each of them took up two-weighted bolas known as ñanducera and swung them like some traditional Argentine ravers. The balls whipped around at blinding speed and rapped against the dance platform to the rhythm of the tango music being played behind them.
It was nearly 3:00 when they'd finished, or at least decided to take a break. The dj started up the music again and the dancers returned to the floor. No one seemed ready to go anywhere. More drinks were ordered, more dancers twirled. La Catedral wasn't full, and was by no means empty another forty minutes later when we decided, even if there was to be another performance later, we'd better get going.
---
Remember that bus plan? They run all night; but as Buenos Aires is mostly one way streets the return path isn't the same as the way out. After waiting another half our for our bus, we realized we'd missed our stop when the driver came to his final stop somewhere at a downtown bus station. It wasn't the best part of town, but finding the right bus to go back seemed a dubious plan so we flagged down a taxi and told him our address.
The ride was scary, but not because the driver tried to steal anything from us, or even charge too much. Instead, he nodded off regularly during the short ride right past our hostel. I had to wake him up to point out he'd passed our place a block ago. It was almost 5 am.
---
There are many ways to experience tango in Buenos Aires. You can see performers on shopping streets or in front of souvenir shops in Boca. You can check out the athletic (and expensive–$50+ for tickets) shows. But tango in Buenos Aires is not only amazing, it's vividly alive. In downtown St. Telmo neighborhood, amateurs of all ages come to dance. Charming, well dressed older couples are joined by young women and men in jeans and tennis shoes. One young man in baggy shorts and running shoes floated around the square with his forehead pressed against his partner's and his hand wrapped around her waste pulling her towards him. He wasn't particularly good compared to many others there but I still thought he'd probably win any dance contest he ever tried out for in the U.S.
La Catedral may be the best way to experience tango in Buenos Aires. It's beautiful, fun, but above all alive. Here tango is for real. Maybe the dancers aren't as good as the pros, (they seemed pretty damn good to me) but this is what it looks like when people really care about their doing, and above all are not there for anyone else but themselves. This is how honest, real tango looks and it looks like it's not going anywhere.