01.20.12
Even compared to Italy? That's what everyone says when I say Argentina has the best ice cream in the world. Yup. Italian ice is amazing. And it's served in more extravagant concoctions than ice cream from an Argentine heladeria (ice cream shop). Argentine ice cream is obviously influenced by the Italian variety, but where Italians rarely serve their sweet confections in a cone, opting for artful glass bowls and adding cookies and toppings, most heladerias stuff a waffle cone full and then swirl another flavor on top in a staggeringly tall cone of goodness, and that's it.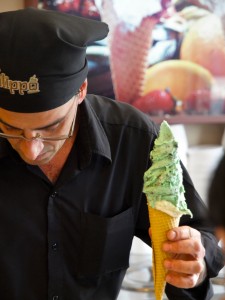 Argentine Deliciousness

Shops offer dozens of flavors, including multiple variations on Argentine favorite dulce de leche. Most are handmade in the shop and, while it's possible to find Ola and Nestle and other world famous brands of packaged ice cream at convenience stores, it's not clear why anyone would want to.
Ice cream is just as popular in hot and humid Buenos Aires as it is at 11:00 at night in cold and windy Patagonia. There doesn't seem to be a time or reason necessary for ice cream and we saw kids and adults wandering in shops or sitting down to enjoy a lick any time they could. Once we'd tried it, we could see why.
But why? It's smooth and creamy and never icy. Where U.S ice cream (which is quite good, thank you very much…nobody has more flavors than Americans do!) often separates into a bit of water and melt if you don't eat fast enough, Argentine helado which was soft enough to easily scrape out of the the buckets was also consistent enough to remain unmelted the whole time. The helado was sweet, of course, but fruit flavors like Patagonia's famous Calafate berry (legend states that once tasted, you must return to Patagonia) were aromatic and tart, while ubiquitous dulce de leche tasted of warmth and baking.
Or maybe it's the way it's always stirred and swirled, like American chain Cold Stone. Or maybe it's all natural and homemade? Or maybe it's all the terrible industrial chemicals and polymers that they have yet to forbid in latin American? All I know for sure is that this is stuff you just sit there marveling at while eating and wondering if maybe you should order another couple of cones and just skip dinner!