06.13.13
The shuttle dropped us off early in the morning after an overnight bus ride back to Istanbul. The cheap hotel was around here somewhere, or so the bus service thought, but as we walked through Taksim square, quiet in the too early morning, we felt a bit lost.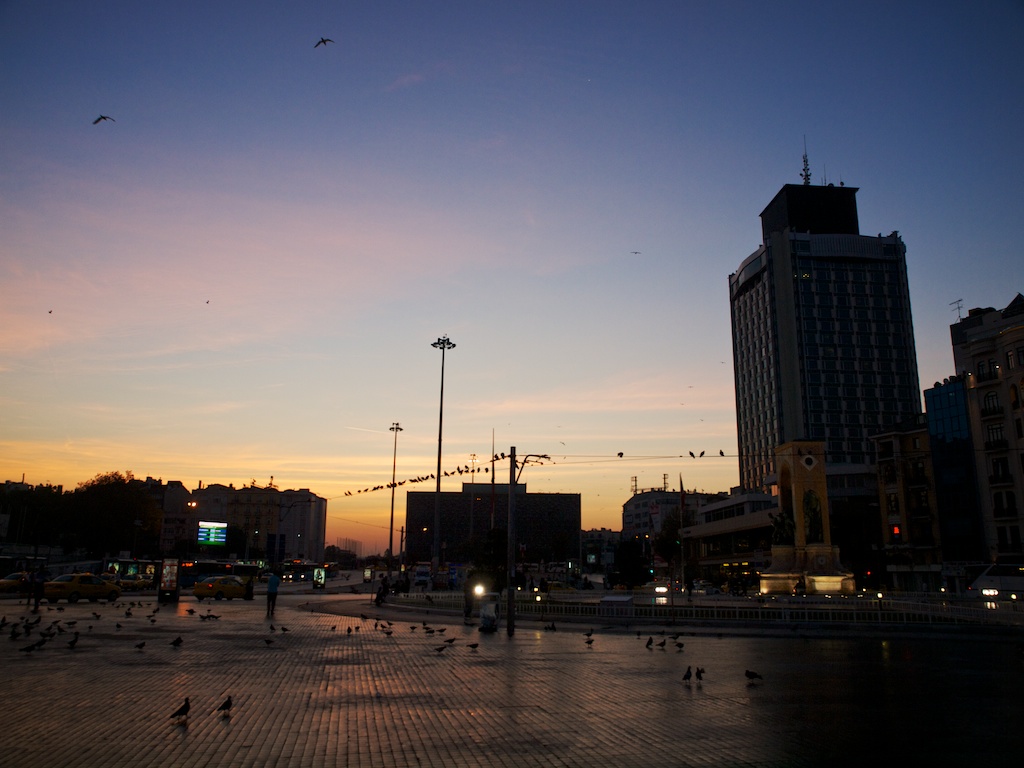 Even early in the morning the square is busy, but not with pedestrians; rather with cars buzzing around the complex intersection of several streets all radiating out in different directions. This is downtown, modern Turkey, and unlike graceful mosques and traditional cafés, Taksim looks like many cities around the world. It's a striving to get to work, coffee in hand, we've got stuff to spot, with tall buildings, noisy traffic and bus stops.
As we made our way through the square and down the main shopping street, the remnants of a party, celebration, football victory, or just last night, were everywhere. City sanitation workers were making their way in the opposite direction picking up the mess of spent beer bottles, and fast food wrappers. It was quite a mess and we never discovered whether this was a rare event or just another night in Istanbul's party neighborhood.
We made our way through the trash and through some shadier parts of town finally arriving, too early, at the hotel to stash our backpacks and see more of the city. Maybe the overnight trip wasn't so convenient after all…no one was even awake to let us in.
Famous Taksim, so important to the Turks, left little impression on me. I just didn't experience it the night before, likely a good time to understand why they think of it as the heart of the city. There are few interesting sights here for the tourist. Most of the famous mosques and landmarks are on the other side of the bridge a few kilometers from here, and I didn't feel like a Starbucks coffee, so it had little to offer at 6 in the morning.
Yet, walking through it is more important than that. It's easier than ever to see vibrant images of current events happening around the world, right in your internet browser, and doing so brings home the reality of our shared human condition. It's also easier than ever to fly around the world and visit the places first hand. Maybe I was unimpressed by the local landmark during my short walk across, but it is one of the great values of travel that just brief visit can bring alive those vibrant pictures from the news and bring the people in them that much closer.